Competition
HKU SAAS Data Science Lab of the Department of Statistics & Actuarial Science, The University of Hong Kong is organizing an AI in Metaverse and Innovation Challenge Competition for secondary school/undergraduate/graduated students. The aim of this competition is to promote development of artificial intelligence (AI), virtual/augmented/mixed reality, and metaverse technologies and applications at the school level and the industry level. The competition encourages students to develop innovative AI and metaverse solutions using AI, data science, mixed reality, statistical tools for solving current hot topics/problems in Metaverse. The competition also serves as a platform for local secondary schools, institutions, and industries to share knowledge and experience on the development of AI in metaverse for solving business problems, and creating innovation and business insights for industries in business, finance, healthcare, social science, education, smart city, and Internet of Things (IoT).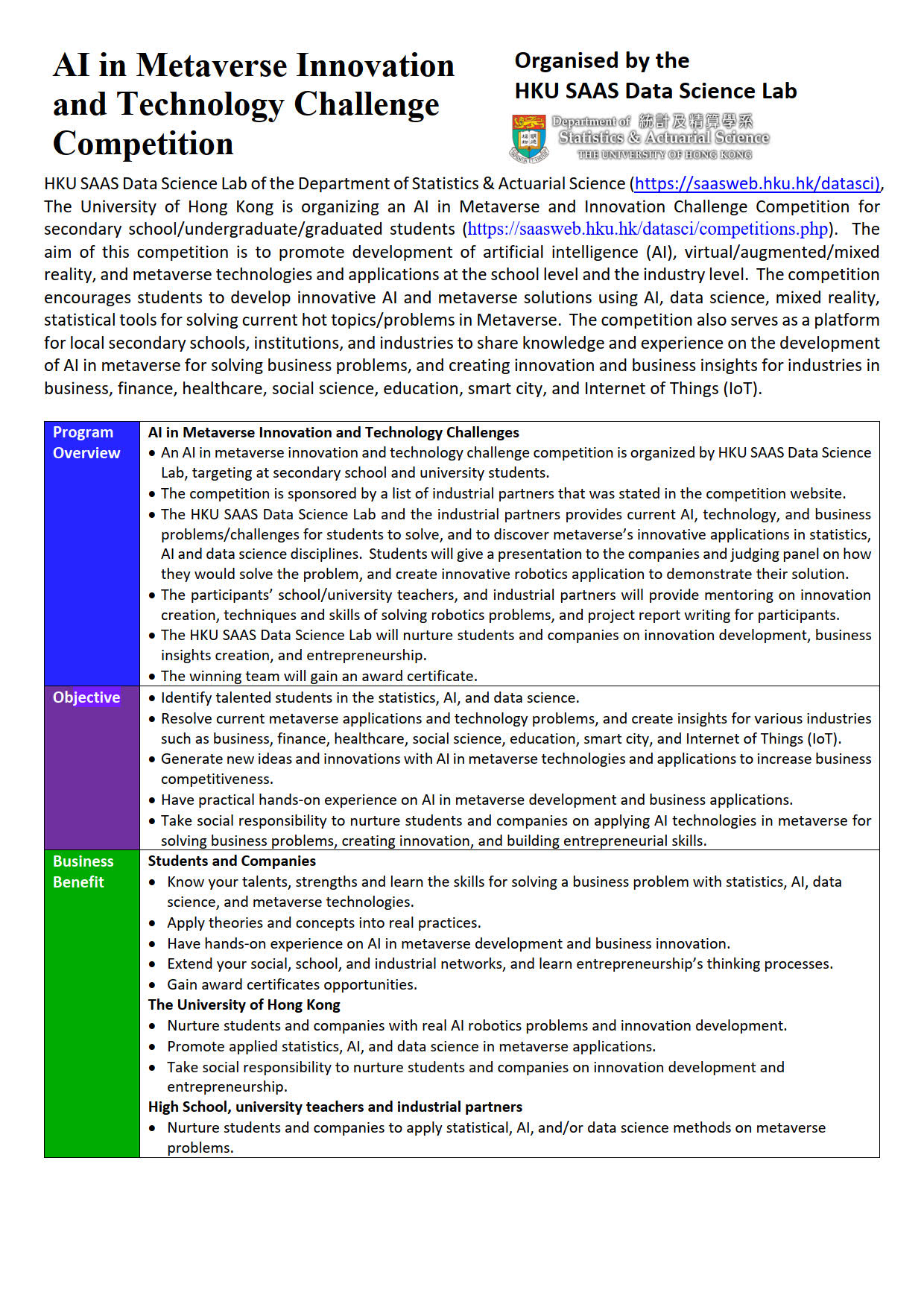 For details, please download the competition flyer here.

For newsletter of the last year's competition, please download here.
Please submit the competition application by Nov 30, 2022 and Jun 30, 2023 respectively via the link of register. If you have questions, please email to Dr Adela Lau at email adelalau@hku.hk.
Requirement of Submission and Schedule
Number of Participates in Each Team
Not more than 6 people in a team
Format of Project Report

Number of words:
The business case writing should have minimum 2000 words (around 5 pages) and not more than 4000 words (around 8 pages).

Case Writing Format:
Chapter 1 Project Background (200-400 words)
Chapter 2 Problems (100-200 words)
Chapter 3 Current solutions and its limitations and why AI robotics vision and automation technology that can solve the problems and limitations (400 – 800 words)
Chapter 4 Your proposed solutions (800 – 1600 words)
Chapter 5 Conclusions (100 – 200 words)
Chapter 6 Future work (400 – 800 words)
Chapter 7 References and Acknowledgement (not count as the word count limits)

Prototype Format:
The python program and an AI robotic demonstration in YouTube (set as unlisted)

Competition Application Deadline

Junior UG Group:
Registration: Nov 30, 2022
Pitch Idea: Dec 2022
Business Case Submission and Demo: Jan 30, 2023

Junior UG/MSc Group, Primary/Secondary School Group, Company Group:
Registration: Jun 30, 2023
Pitch Idea: Jul 2023
Business Case Submission: Aug 30, 2023

Workshop for students/companies to pitch idea
Date: Dec 2022 or Jul 2023
Venue: Zoom (TBA)
Project presentation video record in YouTube (unlisted), and report submission
Date: Jan 30, 2023 and Aug 30, 2023
Submission: Email URL to Dr Adela Lau at adelalau@hku.hk
List of Sponsors/Supporting Organizations